Okay, so the last post was all about why you should be using Pinterest for your business. This is a learning curve for me too as despite using the platform for many years, I still know very little about it. So while you learn how to start your Pinterest journey, I too am learning along with you.
Let us Begin!
When you are on the main page Pinterest.com, you can choose to either login to an existing account or to sign up for a new Pinterest account. And the very first option that shows up allows you to create a personal account.
So if you want to use Pinterest just to save some ideas to your boards, go ahead and start creating a personal Pinterest account right here. By the way, for a personal account, Pinterest allows you to use not only an email address to sign up, but also a Facebook account or Gmail account.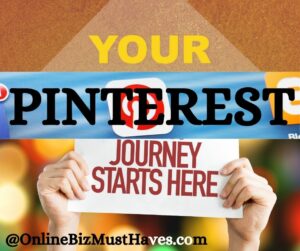 And I do not recommend using these options for signing up on Pinterest. Because this usually ends up in creation of multiple accounts. Because one day you might try to open Pinterest when you are not logged in to Facebook or Google.
You will insert your email address then to try and log in and Pinterest will create a new account for you without you realising what's going on. Then you will find yourself going from one to the other, posting stuff to the wrong account and boards and chaos ensues…….. Well…. maybe not that bad but it can be a pain.
So, when you create a Pinterest account, if you plan to use Pinterest for driving traffic to your website, then you should skip all of these options and click on the button to create a business account.
Business account
So you sign up with your email address. Under your profile you can add your business and user name, a bit about yourself and your business.
You can fill in your address and phone number etc if you wish. Address, phone number and email on this section aren't mandatory. If you fill in your email address under the profile, it will be public. This is also where you add a photo or Logo. Be sure to click on save before moving on to the next part each time.
Then you go down the list filling in the required information. You can also 'Claim' your business by linking your website to Pinterest, just follow the steps. Next, add your Instagram and YouTube accounts, if you have them. You can also link an Etsy shop to your account too.
Your home feed will be populated by similar topics that you look at. You can change this by using the Home Feed Tuner to have more pins of subjects you prefer.
Personal Account
If you have a personal account and have now decided that you want to change it to a Business account you can do that quite easily or you can have both.
And all you have to do is go to business.pinterest.com and you will end up on a page where you can create a free business account from your personal account.
Also on this page you will find a wealth of help topics from getting started, to creating pins, advertising and more.
I stumbled across this page once and didn't find it again until now. Told you this was a journey we are taking together.
Do you Need a Business Account?
The short answer is YES! If you want to use Pinterest for business and commercial purposes, you really HAVE to use a Business account. It's very important. The main reason you need to use a business account is to comply with Pinterest's Terms of Service.
You don't want your account to be closed for using a personal account for business purposes, do you? If you plan to make money from your Pinterest account in ANY way, you should use a business account. Do make sure you follow the guidelines because users have had accounts closed before now.
Pinterest may terminate or suspend your right to access or use Pinterest for any reason with appropriate notice. We may terminate or suspend your access immediately and without notice if we have a good reason, including any violation of our Community Guidelines. Upon termination, you will continue to be bound by Sections 3 and 8 of these Terms.
More simply put:
Pinterest is provided to you free of charge. We reserve the right to refuse service to anyone, but we will be reasonable about it.
Benefits of a Business Account
Another benefit of having a business account is that you will get access to special features and services that are available only for business accounts. It's Pinterest Analytics and Pinterest Ads.
So in Pinterest Analytics, you can see your Audience Insights. You can check what people who follow you are interested in reading about, how your site doing on Pinterest and in the Advertising section you can run some adverts.
Pinterest adverts cost less than on other platforms and seem to perform better from what other people have said. This is business people that use adverts on all social media platforms as well as search engine ads.
Just starting out though you don't need to worry about adverts. It will be enough to get up and running for now.
Boards
To save pins you need to create boards. If you go and look on other accounts you will see that they all have separate boards, titled in various ways, where they pin their own and other people's pins.
This can either be done on the Pinterest page or as you save a pin. Pinterest has an instruction page especially for the purpose of aiding you. Click HERE!
Round Up
So we have learnt? That Pinterest is a Search Engine rather than a social media platform. We have discovered that it is so popular because it is very visual and that it is growing rapidly.
If you looked at the facts and figures from the previous post, you will understand why this is becoming a popular platform for businesses.
So, based on what you have discovered so far, do you now know how to start your Pinterest journey? And the biggest question of course is Will You?
If you already have Pinterest, are you encouraged to do more with it?
I am, I shall continue to learn more and learn better ways to use Pinterest, then come back and tell you my findings.
————————————————————