So you are working from home now, either for someone else or for yourself in your own business. You realise that, instead of making do, it's time to turn a room or even a space into an office as this has become long term.
So what do you need if you are working from a home office? First of all comes the desk. This post is all about desks from 3 different companies.
A Desk
That sounds simple doesn't it? But there are so many different types, sizes and heights available now. Do you want a desk to stand at or do you prefer to sit? Perhaps you want the option of doing either?
Your desk should be right for your needs. Have enough space for what you need to put on it for your work and fit the space you have. Hopefully it will also look good. A pleasant work space makes for better working.
Office space in a used room
Let's look at what you can get to make a comfortable office space while you work that can tuck away when not required to work.
How about a desk that folds up neatly when you are done so the room can go back to its original purpose.
This desk is beautiful, strong and easy to assemble.
The ideal workstation for your home office, bedroom, or even kitchen when space is at a premium.
Made from natural plywood and designed to save you time. Flip the top, fold the legs and your home office is ready to go in seconds, every day.
A space saving design means when folded it's 23 cm width, saving space for after-work activities.
This has a  larger than normal surface space to give plenty of room for your laptop, desktop, notepad, coffee, etc.
A collaboration with Cambridge based designer Leanne Yip and made in the UK.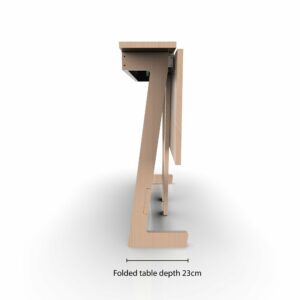 Size: 100cm x 55cm x 74cm (w x d x h). Just 23cm deep when folded.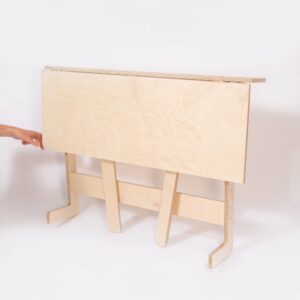 An ideal desk to save space once the day is done, perfect for a shared space in your home.
CHECK IT OUT HERE!
This is an accessory for your desk, worktop, the kitchen or dining table. in the spare room or pretty much anywhere.  This is ideal if you prefer to stand all the time or as a  change from sitting if you only want to stand part of the time.  This has become a very popular way to work as people realise that it is not always good to sit for long periods of time.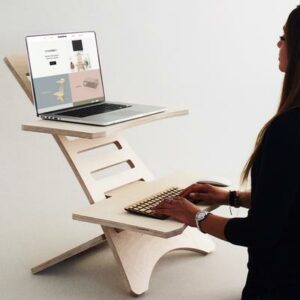 In a usual office setting people tend to move about getting things they need and interacting with others. So very often you don't remain  at your desk in one position for many hours. Working from home though is different. You might get up to get coffee but that is about it for many people.
This sustainable standing desk can be used for a laptop  or separate screens, however you prefer to work. It is adjustable and easy to set up.
👩‍💻 Ergonomic. Good posture is essential when sitting in front of your desktop. The more upright the less likely you are to experience any long-term back strain.
🖥️ Suitable for laptops & desktops. Designed to support desktops and screens of up to 27″ on the upper shelf and can support a total weight of up to 10kg.
🌿 Sustainable. Made from natural birch plywood, the minimalist design will give your home office a new lease of life.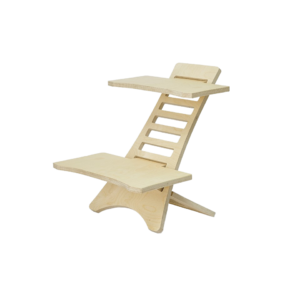 🔨 Easy to assemble. The Stan arrives as a flat pack kit and takes seconds to assemble! The easiest DIY you'll ever do.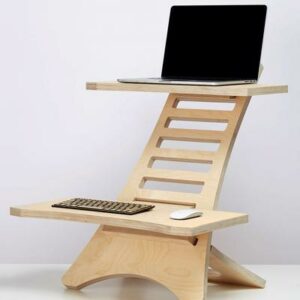 💯 Dimensions: 43cm x 22cm x 11cm (w x d x h). Weight: 3kg.
It arrives flat packed but is easy to put together, all pieces just slot into place. Adjust the height of the shelves to what suits you best for working.
CHECK IT OUT HERE!
A versatile desk that can be L shaped or straight depending on the space available.
It has plenty of storage space with a single drawer filing cabinet, 2 drawers and 2 open shelves. Space for all your needs without taking up too much space.
With working from home being the preferred way to work, it is important to have everything you need , for your work, at your fingertips. A comfortable workspace is important.
The desk can be "L" shape or straight.
Create a working atmosphere for home, study, office and more
Lightweight yet durable particle board for easy movement
2 drawers, 1 file cabinet and 2 open shelves offer ample storage space
L Size: 117 L x 83.5 W x 76 H cm, Normal Desk Size: 162 L x 50 W x 76 H cm. Assembly Required.
A very useful and versatile desk, that will be ideal in any room. Would be useful for schoolwork too, with the storage for keeping everything in one place.
Loving this one.
If you are all at home, adults working, kids doing schoolwork, sometimes one person ends up balancing their laptop, on their lap. This is not ideal.
However, this handy little workstation solves that problem in style. On the tilting surface the design acts as ventilation for the laptop.
There is a very handy little draw and space to use your mouse or put your phone and a drink. Plus it folds up neatly when not in use.
Loving that it is eco friendly being made of bamboo.
From the Website
• Tilting surface and height adjustable
• Foldable legs
• Sturdy and durable yet lightweight
• Handy pull-out drawer
• Detailed surface design acts as ventilation holes     CHECK IT OUT HERE!
These desks are getting very popular now and this is a fine example.
This one can be used for standing or sitting to work and the height is easily adjustable when you want a change. The electric motor allows the change to be made in seconds, easily and more importantly, smoothly.
It will go from 72 cms to 121 cms at the touch of a button. The metal frame supports a tempered glass top for a stylish desk and has a useful draw too.
The desk will need to be plugged in as it is electric, so will need a plug point nearby. Though we tend to put desks near sockets anyway due to the electrical equipment. (Adding this info as I noted a question concerning this on the site).
From the website:
【Tempered Glass Table Top】: Work in style on a modern tempered glass desk top finished with rounded edges for superior safety, comfort, durability, and elegance.  Glass is 120*60*6.5cm thickness and has a weight capacity of up to 50KG.

【Embedded Multiple Functions】: Easily save multiple with four programmable height presets. Charge up to three devices with integrated USB ports (2 type A +1 type C) without mess & hassle. Plus, a child lock button helps prevent accidents if a curious little one decides to play with the up/down feature.

【Convenient Storage Drawer】: A convenient pull-out drawer embedded in the desktop provides seamless integrated storage space for your home office supplies. The modern design blends in perfectly with the rest of the structure while keeping your belongings out of sight and neatly put away!

【Simple, Easy Assembly】: Our innovative quick-install design lets you get up and running in less than 5 minutes! A factory-installed crossbeam greatly simplifies the setup process, freeing up time so you can get back to what matters most.
Now this one is to convert your original desk into a standing desk.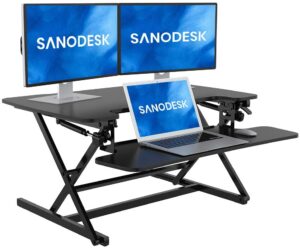 I like this because it has the space for 2 monitors which is very useful. I know quite a few people who are using 2 or 3 monitors now, it is so much easier to keep track of everything at a glance, rather than flipping through to look for the right window you need.
It is easier and more efficient I think and others have said the same. Some say you can't look/focus on more than one screen at a time, which is true. But with two open you are aware of the second one and know the minute anything changes so you can then focus on that if need be.
It is good to be able to stand for a while to relieve muscles and tension.
From the website:
SPACIOUS WORK SURFACE – The 89 x 59 CM desktop is large enough for up to dual monitor/laptop setups, combined with a 86 x 32 CM keyboard tray that raises in sync with the work surface for easy, intuitive operation.
STRONG 15KG. LIFT ASSIST – Sit to stand in smooth motion with gas spring assisted operation, allowing for precise adjustment to your exact comfort level with our innovative simple touch height locking mechanism (Adjustment Range: 14 to 50cm).

STURDY STRUCTURE: A heavy-duty steel frame, enables the desktop and keyboard tray too support up to 15KG and 5KG respectively, vertical rise up & down within its own footprint, and keep any devices or accessories on the workstation steady and safe.

WE'VE GOT YOU COVERED – Our steel sit stand desk have a 5-year warranty for the frame, medium-fiber desktop, and a 3-year warranty for the gas spring system and other mechanisms. We also have around-the-clock, professional tech support to help you with any questions or concerns.
What do you think?
Did you like my choices for desks when you are working from a home office? Do you have something completely different that you find brilliant to use. Which desk did you prefer and would you buy it?
I really like the metal and glass one. It does have a big price tag but in the long run will last longer. Actually, I like them all for one reason or another. I especially like eco friendly options but when it comes down to it, regardless of style or price, we have to go for the work station that most suits the needs we have while working.
———————————————————————————–