Here we have more ways you can exercise while you work from home. These are more for if you are sitting down a lot. Which I have to admit does apply to me. Having done this research on how to exercise while working, I have to say that I intend to get an under desk exercise machine.
So we have looked at standing desks and their health benefits. I also brought a variety here for you to look at. There were also some that did both, sitting and standing.
We looked at office chairs and why it is important to have one that is comfortable.
I also did a post on treadmill desks which are really gaining in popularity in recent years.
Good reasons to get one!
We all know that sitting at a desk all day is not good for our health. A sedentary lifestyle can mean a slower metabolism, obesity and even possible heart disease amongst other things. So anything that helps you get exercise while you work has to be good, don't you think?
An under desk exercise bike will keep legs moving and increase blood flow. It will gradually strengthen your muscles as you continue and become more proficient with it. Some allow an increase in resistance to help strengthen the legs further.
Then of course exercise helps to increase the metabolism and burn off the food to some degree, so can also help to stay fitter and lose weight.
As you are sitting, there won't be a lot of pressure on the joints, which is an added bonus for many. Low impact exercise helps to strengthen and improve mobility especially for those with arthritis.
Improve Mental Health
Lack of movement during the day can leave a person feeling sluggish and tired but still end up tossing and turning for ages before dropping off.
Exercise is brilliant for improving mental health as well as physical health. Being more active on a regular basis helps to improve sleep. This in turn also has a good impact upon mental health. Less tired and more active means you feel more upbeat and therefore happier.
It is better still to be out in nature of course but something like these are ideal when you are tied to a desk. Not literally of course!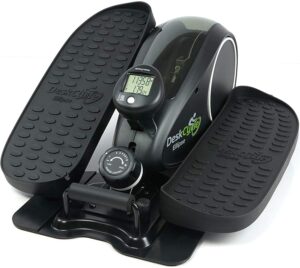 Large display mini bike pedal exerciser is used for arms and legs cycling exercise at office or home to increasing circulation and relieving tension. Product Dimensions: 13.2″ x 15.7″ x 12.2″.

Multifunction LCD monitor display, easy to read LCD screen displays RPM, time, speed, ODO, distance and calories burned. You can also reset by long press the yellow button. An extra strap is provided for securing.

Equipped with an anti-skid mat. The base of the exercise pedal bike which is conveniently outfitted with four anti-slip rubber. The adjustable foot band can flexibly adapt to users' feet of different sizes to meet different needs.

Adjustable resistance for customize exercise, easy to adjust the intension by rotating the knob. The adjustable foot band can flexibly adapt to users' feet of different sizes to meet different needs. Suitable for office workers who need sports, as well as people who need exercise

Portable handle features, which makes the fitness exercise bike always ready to go. Also perfect for under desk exercise,

please NOTE that the desk height should be more than 47 inch.
Check it out HERE!!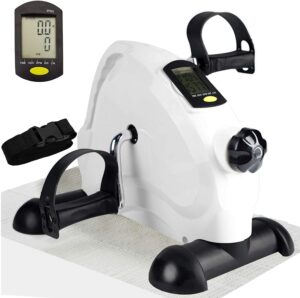 STAY FIT IN THE OFFICE: Our high quality under desk elliptical exerciser can help you burn calories, boost your energy level, and increase productivity while reducing stress during work

SMOOTH AND QUIET MAGNETIC RESISTANCE: The whisper-quiet, ultra-smooth pedal motion and precision flywheel allow you to workout quietly without disturbing your coworkers or family members

EASY TO USE: Large 6-Function LCD display tracks revolutions, RPM, time, calories burned and more; Counts up to 100,000 revolutions in one session

8 CALIBRATED RESISTANCE SETTINGS: Choose from very easy to challenging options; perfect for the elderly, individuals with disabilities, and physical therapy

SWITCH IT UP: Extra long and wide pedals allow you to adjust the shape of your elliptical motion by where you place your feet; bidirectional pedaling options (forwards and backwards)
Check it out HERE!
HAPICHIL Steppers for Exercise
Keep moving anywhere with this HOMCOM mini exercise bike.
It's portable, compact and lightweight.
You can put it under the desk whilst working, or even beside the sofa when watching television. The resistance knob allows you to adjust the hardness to eight different levels for a more personalised experience. The LCD display tracks speed, distance, time and calories. It's time to get your blood flowing and your heart pumping with this nifty like pedal bike.
Features: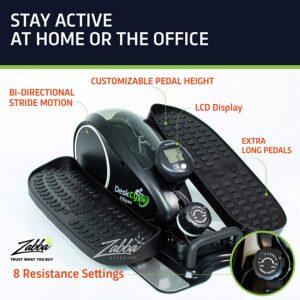 • Resistance knob to adjust to eight different levels
• Multi-functional LCD display: speed, distance, time, calories, mileage and rounds
• Pedals straps keep your feet fixed for safety
• Anti-slip feet for stability
• Compact size, can be used in the office and home
• Maximum load 100kg
• 1 x AAA battery required for screen, not included
Check it out HERE!!
What do I think?
Personally, I like them all and I think they are a brilliant idea. I have different priced ones here, just to show a small sample of what's available. I could put loads more on but they tend to be very similar.
I intend to get one myself when I can make up my mind about what to get. I cannot decide whether it would be more comfortable to have the stepper type or the cycle type.
Reviews are mixed as always, with some loving the one they bought and others not happy for various reasons. I have noticed this on pretty much most things, whatever you buy. People are different with different requirements.
I think the style of anything is a personal choice.  While a load of bad reviews will put me off an item, the usual mixed reviews won't, depending on what is said of course.
What do you think? A good idea or not?
——————————————————-